Uses 1, 2, 3 or 5 judges

Total or Average voting

Automatic History Update

1 - 10 or 1 - 100 Voting

Easy to use Judging Controls

Solid State Digital Electronics

One Year Warranty


See Screen Views Below

The RMF Model 760 Judging System was designed specifically for camera club competitions and exhibition judging. It can be used wherever panelists are required to confidentially evaluate an item or event and display their findings simultaneously for the benefit of a scorekeeper and an audience.
The basic system utilizes a computer (not supplied) and consists of three easy to hold keypad judge controls, interconnecting cables, computer software and a carrying case. Additional keypads are available if 5 judges are required. The keypads connect to the computer via the USB port. The computer controls the voting and the monitor displays the individual votes and total. Results are also saved in an Excel database file for recordkeeping.
As an image is projected, each judge selects a number on his individual control. After the last vote, regardless of order, the individual votes and the total score will be automatically displayed in large easy to read characters on the computer monitor. After the score is recorded, pressing the computer space bar will reset the system for the next vote.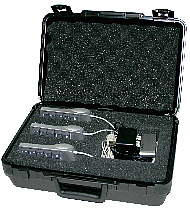 Judge controls include a 1 - 10 or 1 - 100 range of votes. The system also permits fast "In-Out" voting for tie breaking competitions.
Model 760 Judging System consists of three numeric keypads for judge controls, 4 connecting USB cables, a USB hub, software CD, Carrying Case and instructions. For use with Windows XP, Vista, 7 or 8.
See actual screen views for setup and operation
No longer available as a complete system - Software only for $50.00
Price for 3 Judge System: $245.00 plus $20.00 Shipping (USA)

Price for 5 Judge System: $290.00 plus $20.00 Shipping (USA)